New party rooms make extra-happy birthdays.
For everyone.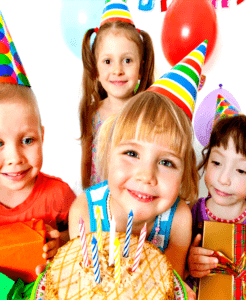 Since we started hosting them, birthday parties have been one of our most popular attractions. We thank you for your patience during our renovation. We're especially sorry if we missed your birthday.
But we think you'll agree it's worth the wait: Our new 5,000 square-foot expansion means we now have three individual party rooms.
Parties can accommodate 10 to 16 children, with a variety of fun packages. Prices vary depending on session time and rental-skate choice. Rope-course adventures can add to the fun—but aren't included in the party price and are charged per child.
For reservations call 248-674-3949. Please book your party ten days in advance. And remember, payment is due at the time of booking.
 Join our e-club for discounts on parties—for birthdays, school events, holidays and more. If we missed your birthday this year due to our renovations and we'd like to offer you a 10% discount* on next year's party, to make up for it. *Note: Proof of birth date is required and you must join our e-club. Other limitations may apply.