Introducing Rolladium Family Fun Center.
Fun knows no boundaries.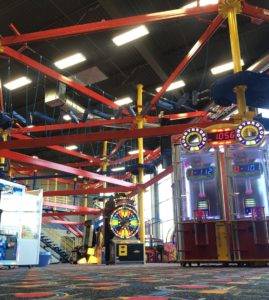 Rolladium's tradition of family fun is going above and beyond. Way above. Like high in the air. With the Metro Area's newest adventure ropes course and Sky-Rail. Rocking, swaying, dipping, diving, flying fun for kids of all ages—including moms and dads.
For adventures on wheels, our roller skating rink has been remodeled, from floor to ceiling. In fact, there is no ceiling. The roof has been raised back to its original dome. You'll feel like you're skating under the sky with new lighting for glow-in-the-dark fun like never before.
And don't worry: We carefully preserved our classic, hand-laid maple skating floor.
Plus a new video games arcade. Favorites like Monster Drop, Ticket Monster, Ice Ball, Spin 'n Win to the latest new sensations. Even a photo booth so you can remember every visit.
You've driven by our renovation for months. Now it's time to stop in and have some fun.